Monday, August 20, 2007
HEY THERE ALL! SELF PORTRAIT IS LATE! SORRY!
Sunday, August 19, 2007
Hello everyone.
My face exploding, they were done awhile back and the red sketch is a recent doodle.
Jumbled by

Ronald J. Llanos
no...i don't have a beard, but I do have glasses and a despondent look on my face when not having to smile. I'm sure everyone has one of these days at one point.
Saturday, August 18, 2007
Friday, August 17, 2007
back in 2000, this was a portrait i did of what i actually looked like when i was in 2nd grade. i think have the same haircut now.
bum out.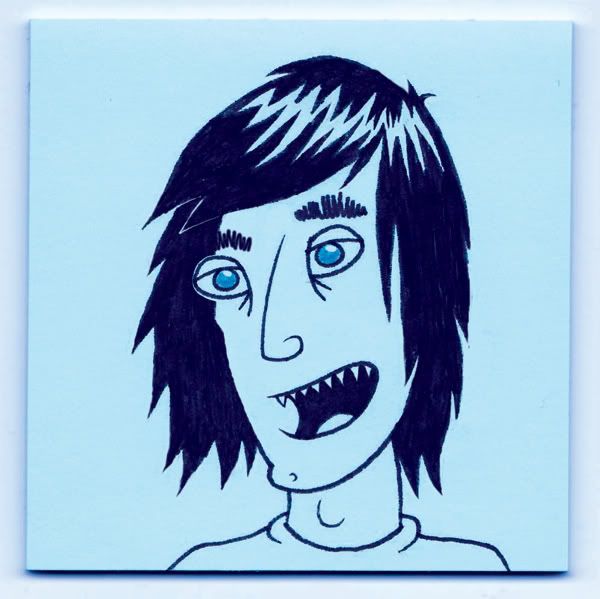 today.
Thursday, August 16, 2007
Here's an old doodle of me w/ my portfolio & and random scribbles I did with my brush pens...trust me it was a really rough week
This is what it looks like when I draw myself at 2:45 am. So sad. >;
Wednesday, August 15, 2007
Here's a quick selfportrait. Note the positive self image. I am actually working on another self portrait that is taking longer than I would like, so I needed a quickie (thats what she said)...
Hey everyone, just joined up courtesy of a heads up from David J ;) I tend to draw myself more than a healthy individual should, so I can definitely contribute to this week's theme!
This was my Valentine's Card this year - yes, I was single. An attitude like this is prolly the reason why.
And a collection of various mood doodles (Moodles?):
Thanks for looking! Can't wait to see who else posts this week!
Jumbled by

Peter N. Trinh
Tuesday, August 14, 2007
This video was made for 'First Friday' a scene in Phoenix, AZ that supports all forms of art. This however was projected on the side of a building with a bunch of other videos for all to see.