Thursday, October 16, 2008
at least she's pretty hot still....
Tuesday, October 14, 2008
Jumbled by

Javier Castillo "Chïko KF"
This "kind" creature was the result of a final animation formation project at ANIMACOR(Spain)
Rafa Toro and me (and a lot of souls on pain;)) work together in this beautiful boy story.
CHECK IT AND GET ZOMBIFIED!
+INFO & Spanish version!(Sorry,I don´t find the english version on the web...)
http://javiercastilloischikokf.blogspot.com/2008/08/zacarias-zombieshortfilm.html
English TRAILER:
http://www.m5audiovisual.com/production.php?sec=4
Monday, October 13, 2008
Today is thanksgiving here in Canada (so any other fellow Canadians celebrating Happy thanksgiving).
One of the few ways we try to differentiate our fellow brothers south of here.
So I came up with the idea thinking about what might happen to Turkey Leftovers.
Sunday, October 12, 2008
Heyas Art Jumble. I'm new here and took a bit longer than expected on my 1st submission. Enjoy.
Saturday, October 11, 2008
Jumbled by

Will Appledorn
i did this yesterday after watching the film, fits right in here. just a caricature of the main characters.
Friday, October 10, 2008
Hey all. This is actually a design for a show I'm working on about a cursed teenager. I hope to color it up in the next day or two. Or maybe I won't have time. We'll see...
Thursday, October 9, 2008
Only tempting to a ZOMBIE.
Wednesday, October 8, 2008
Jumbled by

Javier Castillo "Chïko KF"
I´m chikoKF from Spain and this is my first entry...
My living creative instinct and me...
Never stoping,ever hungry!
Keep walking n´creating!!
Tuesday, October 7, 2008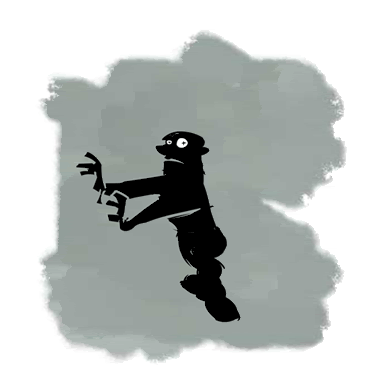 I use this zombie walk cycle in my animated shorts and an image of it on my business cards.
Monday, October 6, 2008
This was a piece I did a little while back for a zombie art show. I thought it fit right in with this week's topic. :)
There have been amazing entries these past couple of weeks!
It's Zombie Bunny Day... don't forget to leave out some rotten carrots for the Zombie Bunny, kids!
A layout for an animation I did last Spring. Here it is if you wanna check it out:
Zombie Bunny Day
© 2008 Barry/Right-Hemisphere Laboratory