Thursday, June 28, 2007
Better late than never! Here's my rabbit (robit?) from 2 weeks or so ago.
Friday, June 22, 2007
I started this egg shaped bunny a week ago. I finally got a chance to color it.
Monday, June 18, 2007
....Late again......
My first time participating @ Art Jumble, so this will become a great avenue of expression. Thanks guys. Enjoy.
Saturday, June 16, 2007
Finally, time to relax and get back into posting. I just got a tablet and am faffin' around with sketchbook. This was the first thing to come to mind here. Why?
"Because when you kill a rabbit's partner, he's supposed to do something about it, that's why!"
Friday, June 15, 2007
I am making a new rabbit illustration currantly, but here is an old one in the meantime.
Everyone depicts rabbits as cute, even when they do nasty things... what about all the other rabbits?


There was no actual plan when I started this guy, but it kind of happened. Interesting hiw that happens sometimes, eh? I read Watership Down last summer. Yeah, it's about rabbits.
Thursday, June 14, 2007
Wednesday, June 13, 2007
Tuesday, June 12, 2007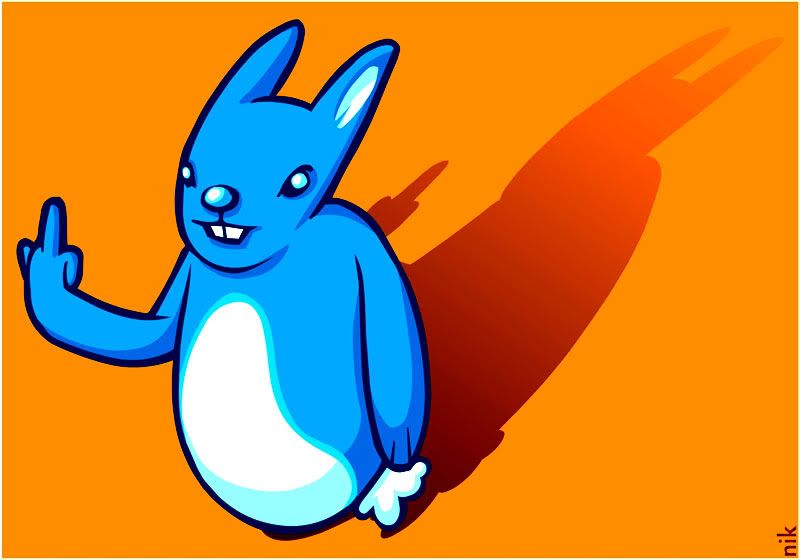 I made this maybe 2 years ago... (?) Glad to see it's useful at last. Haha...