Sunday, November 12, 2006
This did'nt come out like I wanted , but it will have to do for now....
Saturday, November 11, 2006
This is my first post on Art Jumble. I hope I can live up to the talent on this site.
Friday, November 10, 2006
I know, Greg already tackled this topic. But the reality is that neither of us knew that the other one was going to use this beautiful idiom until we saw eachother's sketches. Since we both had started working on this and had taken different aproaches there was no reason not to post these.
Thursday, November 9, 2006
Son of a Gun.....
I had this big idea for this weeks Jam. i was going to do this boy jumping out of bed trying to catch these little Z creatures that would be escaping from under his pillow. unfortunatly this is as far as I got. I wanted to post something since tomorrow I will be moving to a new city and job. So here is my addition for you enjoyment, There is some serious talent on thei blog and im glad to be a part of it. see you guys in a month or so.
(c 0_o)-DAN-
I chose to do an R rated idiom, bumping uglies, with a G rated illustration. Drawing ugly was a stretch for me since my style is more cutesy but we all have to step outside our comfort zones from time to time.

Tuesday, November 7, 2006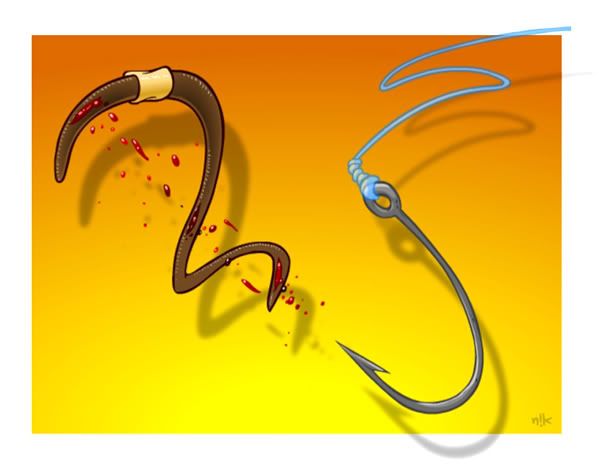 Worms would be a whole lot cooler if they'd muster up enough
guts
to tell fisherman..."NO, SIR. I WILL NOT BE A VICTIM TODAY."
(I

<3

Flash 8.)
Monday, November 6, 2006
Hey all, this is my first post on Art Jumble, its a piece I am currently working on, and also featured in my blog. I'm trying to expand on the amount of characters I have in an image as well as size on the environment because I usually illustrate close ups. Hope you enjoy the progress.