Saturday, December 22, 2007
Jumbled by

Jason Quinones
...or just a
really ABOMINABLE
man in the snow?? you make the call!
HAPPY HOLIDAZE!


jasonsartblog.blogspot.com
Friday, December 21, 2007
The Battle Rages on!
Who is it that will win the hearts and minds of readers around the globe?
Here's the tale of the tape, as I see it:
Yeti:
Looks cooler, Never Photographed, Better Nickname (Abominable Snowman)
Sasquatch:
Smelly, Not Photogenic, Leaves Footprints, Awful Actor
YOU DECIDE!
Thursday, December 20, 2007
a Lost climber from the regions of Northern Asia.
Who simply was very big and tall , and just let his old white beard grow...
Now there are some theories that aim to explain his rare blueness.
I just go on and say, it´s because he´s lost that he´s so blue.
Wednesday, December 19, 2007
I will hug him and squeeze him and name him "George"
Monday, December 17, 2007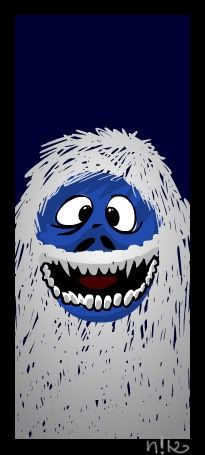 simple and quick, i have too much to do! happy holidays!