Friday, September 1, 2006
Ok, not my strongest submission. I just wanted to get something in on time this week.
OK, HORRIBLE coloring , I know , just wanted to get this posted before the deadline....keep it kind of cartoony....
Thursday, August 31, 2006
These days Bruce Wayne has been getting his drink on after fighting crime and has developed quite the beer belly. One evening Catwoman sneaks into Wayne Manor and steals the last case of Bruce's favorite imported beer. A chase ensues through Gotham Park just as dusk is settling.
Wednesday, August 30, 2006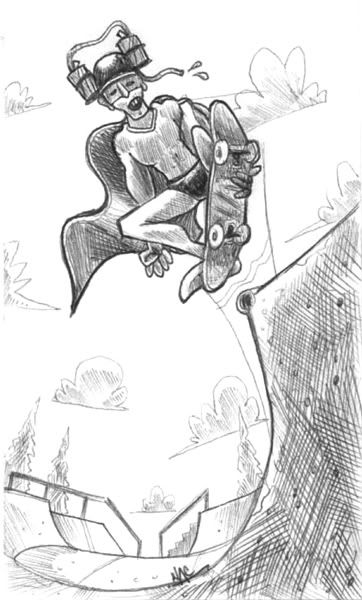 i'm leaving for vacation tomorrow, and i won't be around a computer... so unfortunately, this is all i could come up with until next week. i'll re-work it and color it at a later date... but for now, enjoy this 'super bad idea'
Well this here is my posting for week 2. I apologize for any Superman fans out there by ruining his alcohol free saves the day again persona. Thought I'd play off the "don't drink and drive or expect the worst" ads seen everywhere combined with Superman's flying capabilities. Just so happens he crashes in a park – huh, go figure…